Cyril Badaut was born  in Poissy, France. He starts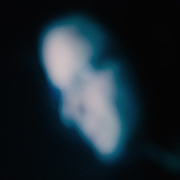 playing saxophone alto in 1988 taking private lessons. He arrived in Paris in 1991 to start a degree in Biology and as awarded a PhD in biochemistry in 2001. Having played in different small groups, he joined Urban Sax in 1994 to practice the saxophone tenor and then the saxophone baritone. With this group, he will visit numerous countries and discover repetitive music. He then leads the rehearsals and takes care of the organisation of the group. In 2003, he joins "Miss Mama", a reggae band, as a saxophonist tenor and co-arranger.
He records several albums as saxophonist with Lulu and the Comets, Fancy Full Moon, Miss Mama, Urban Sax and Mamzelle Lily the Beembo… Since he joined Urban Sax, he is more and more interested in the repetitive contemporary music, which he listens with a sharp critical ear. His meetings and discussions finally lead him to think about the music he wants to compose.
In 2010, he starts working with vinyl records, from a scratched disc being digitalised and inadvertently left on the deck. He finds there the medium for his compositions; the white sound imprinted on the scratched groove; the cracking and impact of the sound produced by the diamond of the deck. He then digitalises and transforms the recorded sound. The goal is to uncover in each of us the memory of a strong feeling that has touched all of us. His first album of abstract minimalist music is released under the name of "Intemporal Analogic Sound" in September 2012 and its title is "Core"